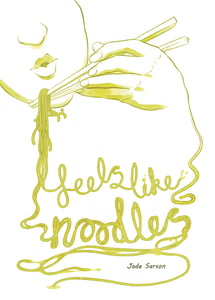 £

5.00
In October 2015, 6 artists entered a room at the Lakes International Comic Art Festival and made comics for 24 hours straight. I was one of those fools.
Feels like Noodles was the result of me not budging my arse for that long: A 24 page comic about feelings of anxiety and depression conflicting to turn me into a puddle of noodles. It's a good, cathartic read.
Kieron Gillen (Young Avengers, The Wicked and The Divine) said it was annoyingly good, and Marc Ellerby (Ellerbisms, Chloe Noonan, Rick and Morty) wanted to rip it up and chuck it in the river. If that's any indication of quality, and I'm pretty sure it is, why don't you get yourself a copy so YOU TOO can get mad at how good it is and throw it at your nearest friend with anxiety and/or depression.
Go on, it's only a fiver. I'll even sign it if you want, just pick the option you want below.