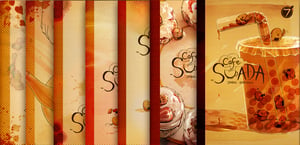 £

7.00 - On Sale
Available online for the first time: The discounted current FULL TEASET of Cafe Suada (Cups 1-7) for £40. Save £9!
"Down by the riverside there is a quaint little teahouse run by our heroine, Geraldine, who's only desire is to spread her love of the golden beverage - But what's going to happen to her business when a new coffee house springs up right next door?! And what is the meaning of Cafe Suada? Guess you'd better read and find out, huh?"
A tale of tea leaves, coffee beans and a dash of romance - what's not to like? Story and Art by British comic creator Jade Sarson. Nominated in 2013 for the British Comic Awards, and winner of the 2014 First Graphic Novel Competition.
Check out the comic online before you buy if you like! cafesuada.smackjeeves.com
--
"This is one of those most wonderful of things; a lovely and well constructed quirky rom-com." - Richard Bruton, Forbidden Planet
"This is incredibly confident storytelling that shows a deep understanding of the language of comics and the unique potential that sequential art has for communicating ideas." - Andy Oliver, Broken Frontier
"Cafe Suada is a perfect display of Jade's dedication to her craft. It's a joy to read, with page layouts and colour palette to die for, an enticing use of tea stains and mug marks that make us feel inexplicably thirsty when we read, and a bunch of characters we find ourselves keen to spend more time with. It's rare for a comic to feature lettering and SFX that literally make you stop and stare... Cafe Suada manages this. Each page is so lovingly crafted that there's no doubting the creator's skill and passion for the medium. Bravo! Let's have another cuppa."
- Emma Vieceli, BREAKS, Vampire Academy, Avalon Chronicles
--
Seven books, perfect bound, printed full colour. Each book is between 40-80 pages and some include bonus material in the back.
Each book is £7, making the set worth £49. But you can have all seven for £40!! I'll even sign them all! If you are after multiple specific volumes, select them one at a time and put them in your cart.
PLEASE NOTE: The teaset costs £40 but the price below is £43 to cover the additional postage of a set compared to individual postage - books are heavy y'know!